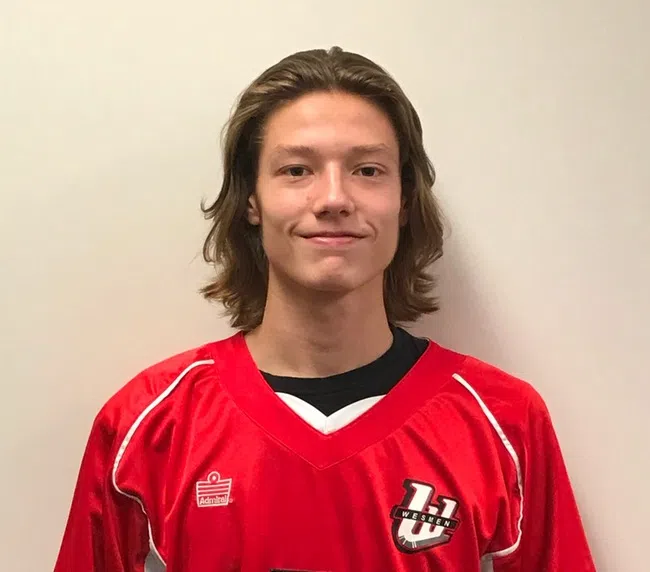 The University of Winnipeg and the Wesmen Men's Volleyball Team are pleased to announce their second commitment for the 2018-19 season.
Austin Anderson is a 6'1 setter and libero from Niverville Collegiate.  Currently the top "AA" team in the MHSAA varsity boys volleyball rankings, Niverville will compete at the "AAAA" level for the provincials this season.  Their current AAAA ranking is between 4 and 6.
"Austin came to my attention through two of our women's volleyball alumni, Bonnie Loewen and Brenda Westwood.  Both strongly urged me to watch Austin and it didn't take long to see his outstanding play. He can set and he is an outstanding passer.  He plays the game with intelligence and passion." Wesmen Coach Larry McKay
The past three seasons Austin has played club volleyball for Providence and was twice named a Provincial All Star. In 2016 Austin played libero for Team Manitoba. In 2015 Anderson's high school team won provincials and he was selected the MVP.  An A student, Austin has spent his summer as a volunteer at the Red Rock Bible Camp.
Austin follows in the footsteps of other outstanding Niverville volleyball players who played for the Wesmen.  Ryan Dyck played for one season in 2004 and Mike Hamm played four seasons in 1994-97.  Hamm was selected as a conference First Team All Star, also in the setting position like Austin.
"We are pleased to add a player like Austin who is such an outstanding player and student.  It's a big jump from "AA" volleyball to the university level and Austin is ready to work his way up." Larry McKay
Niverville coach Ron Limpright says "Austin is an outstanding grade 12 player; he is one of the premiere setters in the province and has now established himself as one of the best left side hitters as well. Austin is a leader on and off the court. He has experience as a provincial team setter and also as a caring camp counsellor in his volleyball off-seasons."