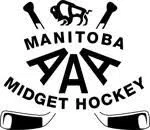 William Highet had 2 goals and 1 assist, while reigning Player of the Week Ty Naaykens added 1 goal and 2 assists to lead the Winnipeg Bruins to a 6-4 win over the Winnipeg Thrashers in a see-saw affair Wednesday night at Southdale CC.
The Bruins jumped out to a 2-0 lead in the first period on a goal by Highet on the power-play as he took a feed from Ty Maaykens off the face-off and slid it past Thrashers goalie Noah Gilbert for the 1-0 lead. At 15:36 Jayson Szun added to the lead with a power-play marker Derek Mathez and and Ty Naaykens.
On a Bruins power-play moments later there appeared to be a coverage mix up as Billy Klymchuk found a streaking Josiah Vanderhooft in behind the defence as he converted on a shorthanded break-a-way to cut the Bruins lead to 2-1 before the end of the period. Shots on goal in the first were tied at 8.
In the second it appeared the Thrashers got momentum boost from the late goal as Jacy Kennedy converted on the power-play early in the second to tie the game at 2-2. The Thrashers would take the  lead for the first time on the night thanks to his second of the night from Josiah Vanderhooft at 10:45, That lead was short-lived as Ty Naaykens responded fifteen seconds later to tie the game 3-3. The Thrashers power-play would strike again thanks to the hat-trick marker from Josiah Vanderhooft- following a wild second period the Thrashers led 4-3.
The Bruins would tie the game at 4:05 of the third thanks to a goal from Corbin Mariash. The evenness of the period continued until Breydon Stubbs broke though to deposit the winning goal at 15:36 the assists went to Kyle Lang and Ashton Klassen. William Highet salted the game away with his second of the night into an empty net at 18:31 to make the final 6-4 for the Bruins.
Matthew Merkel picked up the win stopping 25 of 29 while Noah Gilbert took the loss stopping 18 of 23 for the Thrashers.
The Thrashers outshot the Bruins 29-23 in the contest.
With the loss the Thrashers fall to 1-2-0, the Bruins improved to 3-0-0 and have set up a showdown with the Wild at Bell MTS IcePlex on Friday night. You can listen to the game on the main MIKE FM Winnipeg station with Michael Gerl beginning at 7:00 pm.