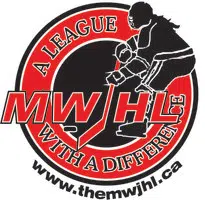 A  late goal from Claire Sandelovich with 1:27 left in regulation and 40 saves from rookie goaltender Roxane Desrochers propelled the Northern Stars to a 3-2 win over the Western Predators Thursday night at Bell MTS Ice Plex.
The goal was only part of a wild fury of action in the final minutes as the Predators pushed for the tying goal only to be denied. The effort was solid from a Predators team who got the only goal in the first thanks to a power play goal from Alana Mendez while outshooting the Northern Stars by a 14-6 advantage after twenty minutes of play.
In the second period the Northern Stars found their game and it was a relatively even period with the only goal coming from rookie Leah Hibbert who finished off a nifty three way passing play from  both Josee Desrosiers and Renee Stevenson for a power play marker .- the final shots in the 2nd period were 14-11 in favour of the Predators.
The Northern Stars would take their first of two leads on the evening at 2:52 of the third period when Jori Friesen appeared to sneak a puck from a bizarre angle past goaltender Michelle Kerdes. Julia Ortiz would respond in short order with the assist going to Kelsey Conrad at 7:26 setting the stage for the Sandelovich game winning goal at 18:33. Roxane Desrochers would take care of the rest making five of her game total 40 saves in the final minute including a goal-line stand the final seconds to preserve the victory.
The final shots on goal would favour the Western Predators by a 42-26 margin.
Next up:
Northern Stars- Sunday October 1st against the Manitoba Blizzard.
Western Predators- Thursday October 5th against the Silvertips.
Next MWJHL action on MIKE FM:
Doubleheader- Sunday October 1st when the Silvertips take on the Polar Ice at 5:00 pm followed by the Northern Stars and Manitoba Blizzard at 7:10 pm- catch all the action with Michael Gerl beginning at 5:00 pm on MIKE FM EXTRA.